Posted by Henk
On March 30, 2020
With the continued impact of COVID-19 on global travel and the ever-changing circumstances, our team is focused on the safety of our guests, both current and future. The guidance is changing fast, but our approach to supporting you remains the same. To date, we have been working tirelessly to assist anyone travelling right now while reaching out to upcoming travelers to talk through their travel options for future departures.
Over the last 20 years we have successfully navigated various global disruptions and crisis and we remain committed to create once in a lifetime trips while taking care of all your wildest dreams, conservation, the communities and your safety, now more than ever.
That being said, the time to plan your dream trip for the end of 2020 and for 2021 is right now, as many travelers have cancelled future reservations and availability to some very exclusive destinations now all of a sudden became more available.  Most of these destinations allow us to do a no-deposit down booking at the moment, while we all wait anxiously for this pandemic to pass before safe traveling can once again continue.
Please take a look at some of our sample itineraries by visiting our website using these links below:
WE ARE GROWING BY LEAPS AND BOUNDS
Summer 2020 is on the horizon and we now offer student trips to Africa, Norway, Georgia and Bali. Each agenda is action packed from start to finish. The students will have two weeks of sharing and soaking in these experiences that we all love so much. We are sure that these memories that are about to be created will remain with each one of them for the rest of their lives.  So, let us take a look at what is new this year: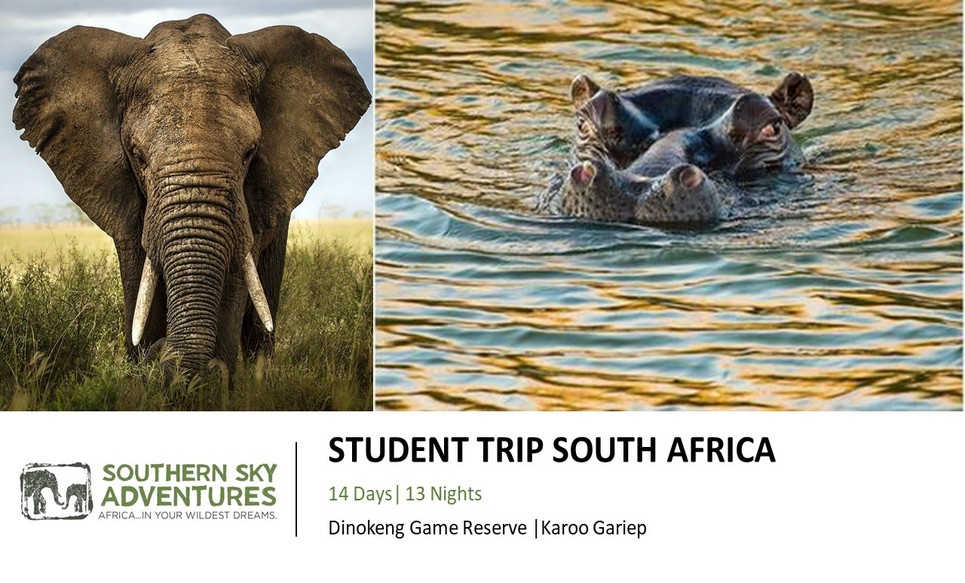 Highlights:  African Safari; 2 day Horse Riding Experience ending with a ride out and camping; Conservation Project; Community Service Project; 2 day River Experience and Camping.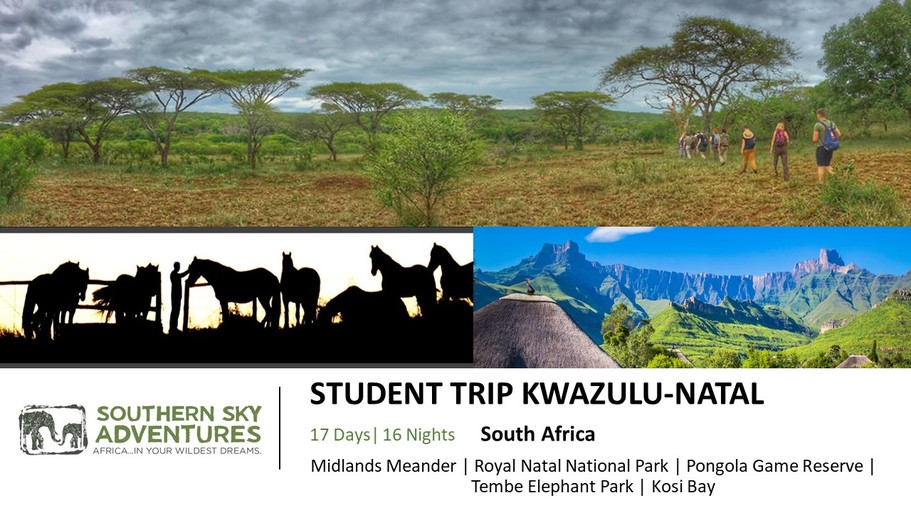 Highlights:  2 Day Horse Experience; 4 Day Hike in the Drakensberg; African Safari; Wildlife Survival Strategies; Bush Skills Activities; Camera Traps and Leopard Monitoring; Conservation Service Project; Community Service Project; Fish Trap Activity and Snorkeling.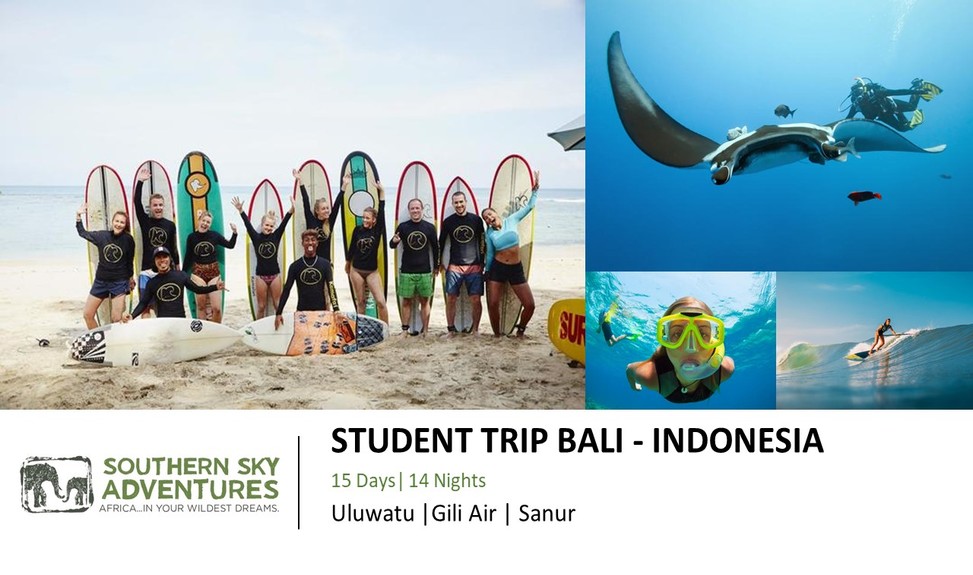 Highlights:  Surfing; Snorkeling; SUP; Hiking Up Ijen Valcano; Native Cooking Class; Community Service Project; Beach Volleyball; Batur Volcano Hike; Snorkeling With Turtles and Whitewater Rafting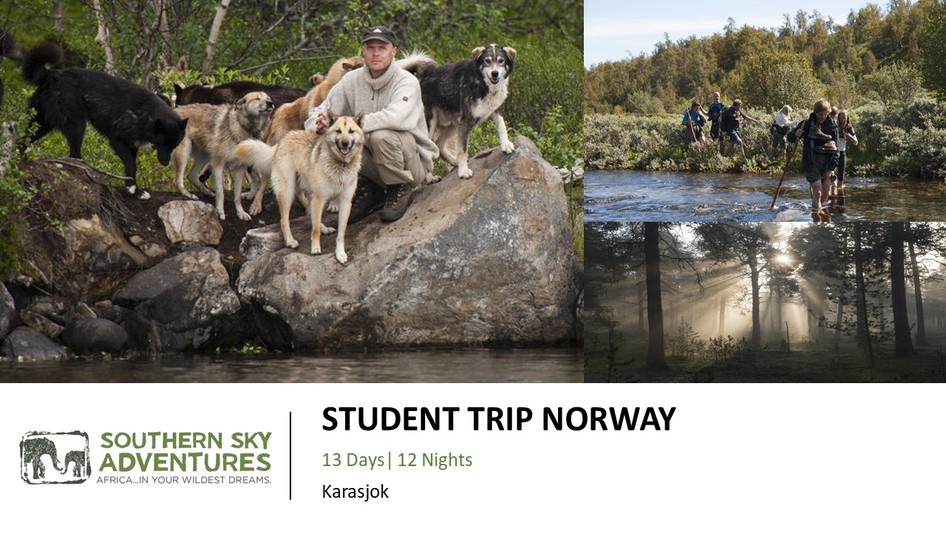 Highlights:  Alaska Husky Dog Experience; Finding Food In Nature; Orienteering and Map Reading; Canoeing; Gold Panning; Hiking; Fishing; Camping; Reindeer Experience and a Sami Culture Experience.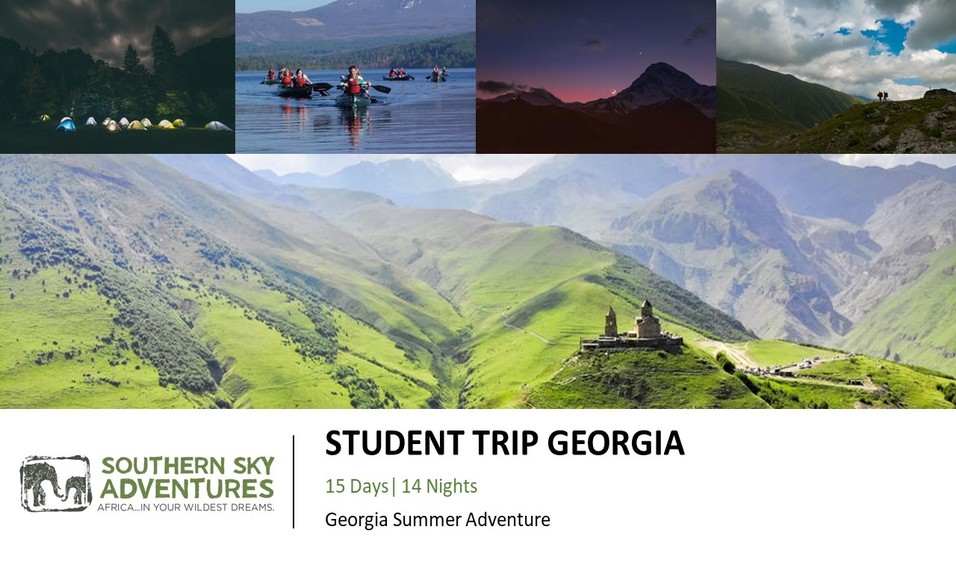 Highlights:  Teambuilding; 4 Day Hike and Camping; Organic Farming; Whitewater Rafting; Canoeing; Community Service Project; 2 Day Hike and Camping and a Tbilisi Experience.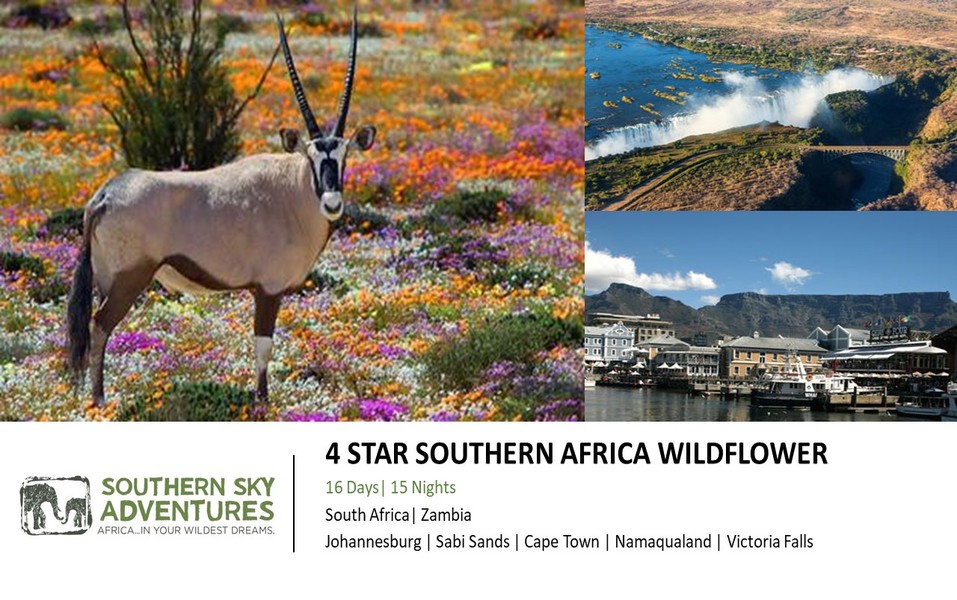 Highlights:  African Safari; Cape Town; Wine Tasting; Table Mountain; Cape Point; Chapman's Peak Drive; Boulders Beach; Wildflowers of Namaqualand; Victoria Falls and a River Experience on the Mighty Zambezi River.
What happened so far in 2020? 
We've expanded our staff in the USA, Africa and Europe.
We are expanding our footprint further into Europe and Asia.
We take dozens of high school groups on educational and adventure trips each summer!
We are continuing our program for Vet Schools this summer with the University of Missouri (UM) to spend 2 weeks in South Africa gaining their required medical field training hours with the big game animals of Africa.
We continue to send families on customized trips.
We continue to offer some of the best golf trips you can ever imagine.
We continue our partnership with World-Class Wildlife photographer Wim Van Heerden to offer some of the best hands-on Photographic Safaris.
We continue to make people's dreams come true as we share the Africa and the rest of the world that we love.
We have been offering student trips to Africa for many years now. We began by offering adult trips into Southern and East Africa as well as the Indian Ocean Islands. While we still cater to the needs of these higher end clients about 6 years ago we started another part of our business in organizing high school, university and graduate school student travel into Africa also.
Our high school student trips highlight nature, adventure, leadership and community service elements. We requests that all cell phones be left with the instructor after landing at the their destination. We want these high school students to unplug, return back to nature and enjoy a chapter in their lives free from the clutter of technology. Emphasis is placed on pushing out of one's comfort zone and applying leadership skills.
Last summer we delivered a turnkey product for 2 weeks of travel into South Africa and along the coast of Mozambique to our largest client with their 90 high school students spread out over 6 groups of 15. We have grown this student interest level from 1 group of 15 to 6 groups of 15 over the last 6 years. Our current trip offers the rare opportunity for the students to participate in the darting, immobilization, examination and release of the endangered white rhinoceros. This highly sought after activity is one that is hard to find even for the well-traveled.
Here below is a digital link to this year's high school itinerary to South Africa and Mozambique described above:
Even though this summer of 2020 is filled with uncertainty at the moment, we currently have 150 kids who already booked for their African Summer Trip and we have a waiting list of 50 students who are ready to do the Veterinary Student Experience with us.
If  you would like us to reach out to your child's school to talk to them about our school trips, please contact Henk Visagie at 919-741-2135 or send him an e-mail at
henk@southernskyadventures.com
Please do not hesitate to contact us at any time if you have questions.
All the best for the rest of 2020 and most importantly, STAY SAFE
Warm Wishes
Your Southern Sky Adventures Team